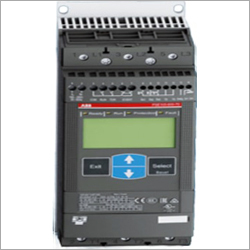 ABB PSE Series Soft Starter
Product Description
Our offered ABB PSE Series Soft Starter is an electrical device that is widely used in different industrial areas for a wide variety of applications easily. This starter is an ideal pick for the small-sized pump applications. Owing to its optimum functionality and torque control, it protects the motor from electrical stress which in turn increases its durability. The soft starter is easy to install and set up improving efficiency and productivity to the maximum level. Also, this starter is incorporated with a built-in bypass that saves energy and space during the process reducing the heat generation by the motor. The ABB PSE Series Soft Starter is mechanically strong and can be easily optimized depending on heavy load or motor size.
Key Features:
Keep your motor safe with built-in motor protections
Fast and easy set-up with illuminated, language-neutral display
Eliminate water hammering with torque control
Reduce energy losses with built-in bypass
Rated operational current: 18 to 370 A
Operational voltage: 208–600 VAC
Control supply voltage: 100–250 VAC
Applications:
Pumps
Fans
Compressors
Conveyor Belts etc.
Distinctive features

Wide rated operational voltage 208–690 V AC
Wide rated control supply voltage 100–250 V, 50/60 Hz
Rated operational current 30 to 1050 A (Up to 1810 A inside delta)
Both in line and inside delta connection
Coated circuit boards available, for reliable operation even in harsh environments
Full text display in 14 languages and 4 button keypad for easy setup and operation
Optional external keypad, IP66
Built-in by-pass contactor on PSTB (from 370 A) for energy saving and easy installation
Prepared for external by-pass on PST (30–300 A)
Torque control for excellent control of pumps
Current limit, adjustable between 1.5–7 x Ie
Fieldbus communication using Profibus, Mod-bus, Devicenet or CANopen
Dual motor overload protection with classes 10A, 10, 20 and 30
Adaptable motor under-load protection to detect pumps running dry
Adaptable locked rotor protection to detect jammed pumps
PTC protection to protect the motor from overheating
Adjustable kick start to start jammed pumps
Programmable output signal relays
Programmable pre-warning functions
Event log with time stamp
Analog output showing current, voltage, power factor etc. 0–10 V, 0–20 mA, 4–20 mA