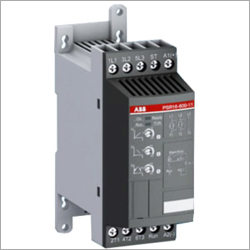 ABB PSR Series Soft Starter
Product Description
We are offering a wide range of Soft Starters to our customers for catering their different needs at affordable prices. The ABB PSR Series Soft Starter is a simple yet sturdy product that is widely used in various applications for simply start and stops the function when required. Manufactured from quality tested raw materials, this starter is robust in construction, light in weight and compact in size which in turn offers its easy installation. The efficient starting and stopping of the product relieve the mechanical stress from the motor equipment. Also, this ABB PSR Series Soft Starter can be configured according to different loads, application and motor size depending on client's requirements.
Key Features:
Keep your motor safe with built-in motor protections
Fast and easy set-up with illuminated, language-neutral display
Eliminate water hammering with torque control
Reduce energy losses with built-in bypass
Rated operational current: 3 to 105 A
Operational voltage: 208–600 VAC
Control supply voltage: 24 VAC/DC or 100–240 VAC
Applications:
Pumps
Fans
Conveyor belts etc.